Have you ever asked yourself what the life of a wetsuit usually looks like? 
As surfers in Europe, we are used to wearing a wetsuit or wetsuit for surfing. A suitable wetsuit keeps us nice and warm in the cold water and protects us from too much UV radiation. Without wetsuits, surfing in Europe would be almost unthinkable. But how is such a wetsuit actually produced and what happens to our wetsuits when they are worn out? 
Let's start from the beginning: The classic wetsuit worn by 99% of all surfers is made of neoprene. This flexible, soft and resistant material was developed as early as 1930 by the Americans Collins and Wallace Hume Carothers. In the 1950s, Jamie O'Neill and Hugh Bradner (a physicist friend of O'Neill) in California developed the neoprene suit for surfers. The basis for this special fabric is crude oil. That is, at the beginning of each wetsuit is in principle the extraction of crude oil and then follows a chemical processing, whereby the neoprene is produced. The mass production of the wetsuits then largely takes place in Asia. From there, the suits are shipped and delivered worldwide.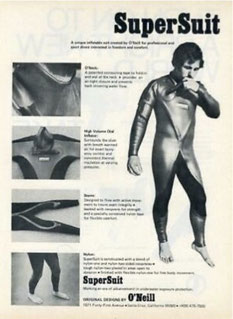 The distribution of the wetsuits here usually runs either through surf schools and surf camps in larger quantities or through retail to the end customer. But what happens then? In surf camps and surf schools, the wetsuits are then used for surfing courses and are exposed to high stress. For surfing in the private sector, the stress is usually less high, because here there are often times when the wetsuit simply hangs in the closet and is rather used in phases, for example, on surf trips or surf vacations. Nevertheless, one thing remains: The wetsuit unfortunately has an "expiration date", which can be between a few months and a few years, depending on the intensity of use. What does this mean? It means that over the course of its use, the wetsuit will experience wear and tear, the material will become thinner, and the first leaks will appear. Over time, holes can appear and likewise seams can open up. In the case of smaller holes or open seams, you can then try again to repair the suit, which can extend the useful life somewhat. However, if the wetsuit is in such a condition that repair is no longer possible or profitable, the question arises: what do we do now with this worn-out wetsuit? 
Most surf schools, surf camps and also private surfers usually see as the last solution to simply throw away the wetsuit(s). But if we now consider how many surfers are in the water every year in Europe alone, and each of these worn wetsuits once becomes waste, then it becomes clear that we are dealing with immense quantities. In Europe alone, this results in several tons of worn-out wetsuits that end up in the trash and in a waste incineration plant. As a result, the incineration of the wetsuits produces further polluting substances such as CO2, nitrogen oxides and flue gases in general, which damage our environment. How can we as nature-loving surfers now simply accept this circumstance? Are there alternatives to conventional disposal? 
"State of the art" at the moment is that it is estimated that over 98% of wetsuits in Europe end up in the trash, which means that the life of a wetsuit ends here, with all its consequences. But the good news is that there are now also approaches of re- and upcycling. On the one hand, there are smaller labels that have set themselves the goal of directly feeding the still usable material into an upcycling process. There are hardly any limits to creativity here. The result is bags, boardbags or even shoes. Labels that are active in this area are, for example, The Upcycling Movement, FLAHICA, Nalu Project or Mr. Stitch Bags.  
Another approach is the recycling or upcycling of the existing material in which an industrial shredding process is used at the beginning, whereby the fabric-like material is chopped into small pieces and can then be further processed. Active companies in this field are Suga Mats, Lava Rubber and Terracycle as a general Upcycler. There are also efforts by LandandSea in Germany that take a similar approach. The result here is products such as yoga mats, coasters or doormats.  
Through both approaches, the supposed waste can actually be reused, saving resources and significantly reducing environmentally harmful pollution and emission! In addition, business models are created for "green" entrepreneurs who can integrate ecological, economic and social aspects into their business model in the sense of sustainable development. 
Our goal as nature-loving surfers with an eye on our environment must be to significantly increase the up- and recycling rate of discarded wetsuits. But how can we do that? For one thing, we should all look to maximize the lifetime of a wetsuit by taking care of it (washing it out with fresh water, drying it in the shade, etc.) and, if necessary and possible, repairing it. This way we will have to buy a new suit less often. On the other hand, we as users of wetsuits and also as surf schools and surf camps can donate the discarded wetsuits to direct Upcyclers and give them to industrial Upcyclers like Terracycle. Nevertheless, especially in Europe, the supply of discarded wetsuits seems to clearly exceed the possibility of upcycling or recycling at the moment. This should be an appeal to courageous startups, founders and entrepreneurs to create sensible offers regarding return possibilities and at the same time to create products and applications from worn-out wetsuits. In addition, the major manufacturers and brands (e.g. Ripcurl, Billabong, O`Neill, etc.) are also responsible in this area to offer their users and customers of their products a possibility to feed disused wetsuits into a functioning recycling system. In many areas, such as batteries, used clothing or car tires, there are already functioning recycling processes. And this is exactly what we need for the many tons of wetsuits that are produced every year in Europe alone. 
Great praise to the existing projects and pioneers who have already effectively and successfully addressed this issue! Keep it up - more of it. 
Keep the ocean clean.